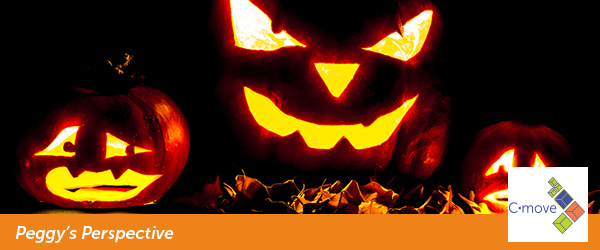 Don't be spooked by these 10 scary relocation demons
Ah, Fall: crispy leaves, pecans and acorns crunching underfoot. Goodbye, heat and humidity! Most of all, October always has me anticipating Halloween. I enjoy putting together a creative outfit and not having to apologize for it. My boss mentioned I look pretty scary most days, so I'm a shoe-in for Halloween.

Things can get scary anytime companies relocate their office, assets, records and personnel. With so many balls in the air, gremlins and demons pop up everywhere—it's like a giant game of Whack-a-Mole trying to keep everything safely moving forward, on schedule and on budget.

Luckily, your move is not Cmove's first rodeo, so we've got a strategy or two up our sleeves. Being prepared—sometimes with a Plan B, C, D, or E—can keep you from being surprised by any of these events.
One: Holidays—Plan for vendors, building managers, service providers and employees being unavailable or overscheduled on the days surrounding a long holiday.


Two: Personnel Changes—The person who was on top of things has left the building…and no one knows the strategy or status. Make sure your move bible is kept up-to-date so someone else can step in without skipping a beat.


Three: Illness or Disability—Sadly and unpredictably health issues can strike and take anyone out of the game. The key, as above, is to keep your documentation in order so a colleague can pick up the slack.


Four: Acts of Nature—Blizzards, floods, hurricanes are somewhat predictable but can still all put a wrench in the best schedules. Building in flexibility helps accommodate the unexpected.


Five: Acts of Man—The unpredictable, fires, strikes, shut-downs and the like, require incorporating time contingencies and having alternative plans ready to roll out.


Six: Changes to Scope—Sometimes clients have more facilities involved in relocating than originally estimated. Cmove's Dream Team can regroup and accommodate the changes.


Seven: Confusion—Personnel who don't know their targets, will fail to hit them. We use our communication tools to make sure move coordinators have what they need to keep their teams on track.


Eight: Records Time—Having files and information you need readily accessible with minimum downtown is essential. Our experience and strategy for moving records will have you set up and ready to roll on schedule.


Nine: Fear of Change—Employees can find moving to new digs very disquieting. Our space planning communication will remove the unknown and help them see themselves in their workspace at the new facility.


Ten: Fear Itself—Worriers worry. Our team minimizes concerns by addressing them at every stage with status updates, documentation and communication to reassure leadership and personnel.
The Cmove team keeps its eye on the big picture as well as every little detail so you won't be spooked by the unexpected. Relocation doesn't have to be scary!