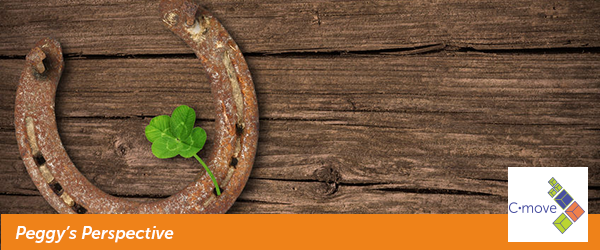 Feeling Lucky? Building in the luck.
I can't believe it's already March: time for leprechauns and the luck of the Irish. (I feel lucky that I'm not shoveling way too much snow!)

Luck is an interesting thing. We think of luck as a gift, something that just happens…or doesn't. We get lucky, right?

Well, not so fast. One thing I've learned working at C·move is that luck is 99% preparation. You can't control the future or the weather, but you can make a good part of your luck.

I remember my team managing moves when we had a hurricane with flooding and when we were hit with a snow storm (yes, even in Houston). Unexpected things happen during a move that can slow progress down: Elevators breakdown or construction crews may be still at work, putting everything behind schedule. Sure it puts a wrinkle in things, but the adversity gives us a chance to be great. We have contingency plans in place and git 'er done. Afterward we look at what went swimmingly—oops, bad choice of words—and what can be improved. We make upgrades to our process to be even better prepared the next time.

How can you build in the luck?
Expect the unexpected.


Plan for the worst… hope for the best.


Develop the best plan that allows flexibility for last minute changes.


Have the numbers in your phone for emergency personnel and other essential contacts.


Always have emergency communication supplies such as gadget chargers and flashlights, and have them charged, keep batteries fresh and have solar or alternatively powered charging options.


Develop great relationships with key vendors who are on-call for last minute changes or hiccups.


Always have a Plan B, C, D and E in your back pocket for contingencies.


RTeamwork with building management and security is critical. They can help with any building issues arising during the move.
Communication with the contractors and furniture vendors will clear the path and help everyone play nice when the situation gets dicey.
The luckiest people in the world are the ones who anticipate the unexpected, and have a plan ready to put in place. Then you can sit back and say, "Wow, were we lucky!"