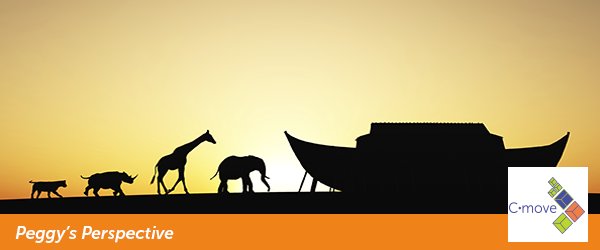 Everything You Need to Know about Relocation can be Learned from Noah's Ark
As we were working on a relocation strategy this week, all the rain we've had reminded me of a pretty big move. Not one of ours—I was thinking about Noah and his Ark. He really had it going on to get the transportation put together (literally and without power tools), to organize all the supplies they would need and to herd the cats (lions, tigers, monkeys, crickets….) by Go Time. I think there's a lot we can apply to any big move from Noah's example.

Here's my take-away:
Don't Miss the Boat: Take advantage of instructions and informational meetings to make move preparation easier.


Everyone is in the same boat: Change is difficult for everyone else, too. Keep a good attitude—it makes the process go easier for all.


Plan Ahead—It wasn't raining when Noah started the ark: Start sorting, sifting, archiving and whittling down right away. You'll be that much further ahead when moving day arrives.


Be rested and stay fit: Noah never guessed that at 600 years old someone would ask him to do something really big. Taking care of yourself prepares you to embrace the big changes when moving.


Travel in pairs: It's safer.


Speed isn't always an advantage. The snails were on board with the cheetahs. Sure and steady gets the job done.


Build your future on high ground: Petty squabbles benefit no one.


Don't listen to critics: Do what needs to be done. Sometimes those with the most to say are the least helpful and productive. Don't be them.


When you're stressed, float a while. Pushing too hard or when you're tired can result in errors or accidents.


No matter how bleak things may look when the task is before you, remember there is always a rainbow at the end.
Sometimes a relocation project seems to take on Biblical proportions, but keeping the basics in perspective, will keep it doable, sane and successful.